Description
The T24 series laboratory sterilizer and autoclave are all made of stainless steel, ensuring an exceptional durability. When the internal pressure exceeds 0.24MPa, the safety will automatically open.
Application
The T24 series laboratory sterilizer is a small table top sterilization equipment with exceptional safety, reliability and automatic control. It can be used in health care, pharmaceutical, scientific research and other industries. This machine has a rapid sterilization effect on objects resistant to saturated steam, like surgical, dental and ophthalmic instruments, glassware, medicines, culture mediums, fabric dressings, food, and more.
Features of T24 series table top sterilizer
The sterilization process is automatically controlled, and requires no supervision, which makes it convenient to use.
The maximum sterilization temperature is 134℃, allowing rapid sterilization to be carried out in 4 to 6 minutes.
The sterilizing plate features a hole and a cover that can be covered after the sterilization process in order to prevent air pollution.
The T24 series laboratory sterilizer and autoclave is equipped with over-temperature and over-pressure automatic protection devices.
If the water is cut off, the temperature of the heating tube exceeds 150℃. When this happens, the power is automatically cut off, and an alarm will sound, indicating water breakage.
TM-T24D Laboratory Sterilizer and Autoclave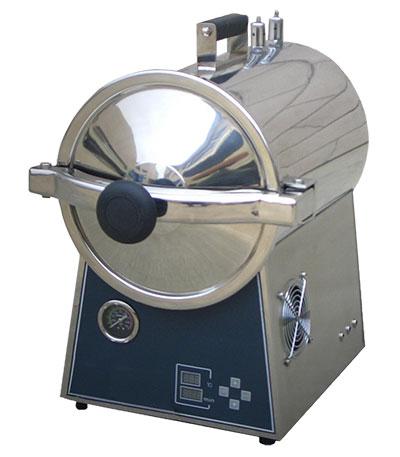 | | |
| --- | --- |
| Sterilizing chamber volume | 24L(Ø270×410 mm) |
| Maximum working pressure | 0.22 MPa |
| Maximum operating temperature | 134 ℃ |
| Adjustment of sterilization temperature | 115~134℃ |
| Adjustment of timing | 0~99min. |
| Temperature uniformity of sterilization chamber | Q±1℃ |
| Energy supply | 1.5KW/AC220V 50HZ |
| Sterilization tray | (Inner diameter) 340×200×30mm (3 pieces) |
| Machine overall size | 560×350×500mm |
| Outer packing size | 620×410×570mm |
| Net weight | 18Kg |
| Gross weight | 20Kg |
TM-T24J Laboratory Sterilizer and Autoclave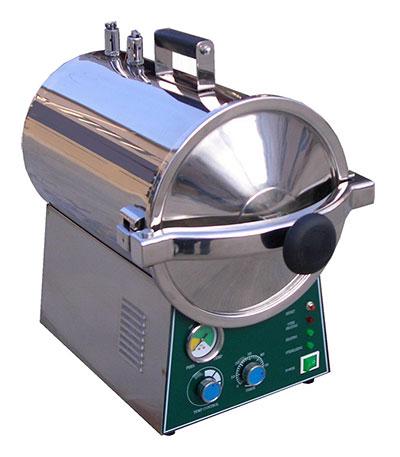 | | |
| --- | --- |
| Sterilizing chamber volume | 24L (Ø270×410 mm) |
| Maximum working pressure | 0.22 MPa |
| Maximum operating temperature | 134 ℃ |
| Adjustment of sterilization temperature | 105~134℃ |
| Adjustment of timing | 0~60min. |
| Temperature uniformity of sterilization chamber | Q±1℃ |
| Energy supply | 1.5KW/AC220V. 50HZ |
| Sterilization tray | (Inner diameter)340×200×30mm (3 pieces) |
| Machine overall size | 560×350×500mm |
| Outer packing size | 620×410×570mm |
| Net weight | 18Kg |
| Gross weight | 20Kg |