Description
The XD-D series laboratory sterilizer and autoclave is a piece of small and fast steam sterilization equipment, and is automatically controlled using a microcomputer program. Its sterilization temperature is 103~134℃ and the timing range is 1~99 minutes and 59 seconds. With automatic computer operation, it is intelligent and convenient.
Application
The XD-D series sterilizer is suitable for use in health care, pharmaceutical, scientific research and other industries. This sterilizer has a rapid sterilization effect on objects resistant to saturated steam, such as surgical, dental and ophthalmic instruments, glassware, medicines, culture mediums, fabric dressings, food and more.
Features of the XD-D series sterilizer
With fast sterilization cycle, the automatically poured 1.2L distilled water carries out up to 5 continuous sterilization cycles.
The microcomputer automatic program controls heating, sterilizing, steam discharging and drying. The operation is easy requires no supervision.

Equipped with an inner steam circulation system, the steam will not be released to the exterior, which ensures the surrounding environment remains clean and dry.
The sterilization temperature is 105~134℃ and the timing range is 0~99minutes. Users can set the sterilization temperature and time according to different sterilization requirements.
The maximum sterilization temperature is 134℃, ideal for rapid sterilization periods of 4 to 6 minutes.
With a temperature and time LED display window, the temperature and time during the sterilization process are visually displayed. Program dialogue is also displayed on a full screen. When the temperature is too high, or the sterilization process is finished, the sterilizer will beep.
The XD-D series sterilizer and autoclave are equipped with an automatic protection device against over-temperature and over-pressure
When the internal pressure exceeds 0.24MPa, the safety valve will automatically open to discharge the steam into the water tank.
The power is automatically cut off if the inner tube steam temperature is more than 138℃.
When the inner tank heating tube temperature exceeds 150℃, the power and water are automatically cut off, and an alarm will sound.
Over-current: when the safety current is overloaded, the power breaker is automatically cut off.
There is a cold air automatic releasing device inside the sterilization chamber to ensure sterilization effects.
The sterilization chamber door is equipped with a protective shell, protecting the user from getting burned.
The inner tank container is made of container of SUS304 stainless steel with a wall thickness over 2.5mm.
Instruments and tools disinfection and sterilization process
Sterilization automatic program
Heating
Sterilization temperature/time
Sterilization cycle
Drying
Total cycle
20~134℃/11 min
134℃/4~6 min
15~18 min
20~30 min
35~48 min
TM-XD20D Laboratory Sterilizer and Autoclave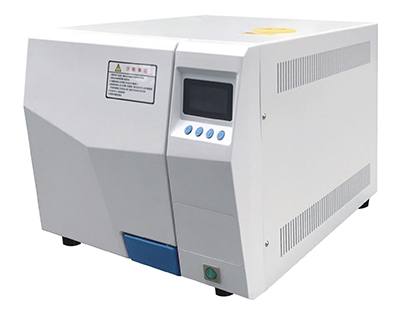 | | |
| --- | --- |
| Sterilizing chamber volume | 20L (Inner diameter Ø250×420 mm) |
| Rated working pressure | 0.22MPa |
| Rated working temperature | 134℃ |
| Adjustment of temperature | 105~134℃ |
| Adjustment of timing | 0~99min. |
| Temperature uniformity of sterilization chamber | ≤±1℃ |
| Power/Voltage | 1500W/AC220V 50Hz |
| Stainless steel sterilization tray | 340×200×30mm (3 pieces) |
| Machine overall size | 630×480×420mm |
| Gross weight/Net weight | 52Kg/47kg |
TM-XD24D Laboratory Sterilizer and Autoclave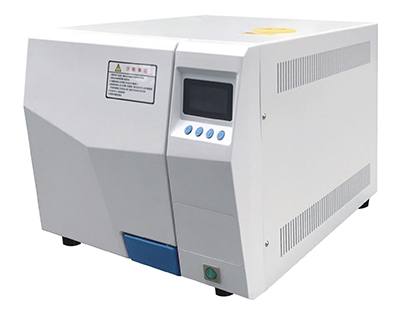 | | |
| --- | --- |
| Sterilizing chamber volume | 24L (Inner diameter Ø250×520 mm) |
| Rated working pressure | 0.22MPa |
| Rated working temperature | 134℃ |
| Adjustment of temperature | 105~134℃ |
| Adjustment of timing | 0~99min. |
| Temperature uniformity of sterilization chamber | ≤±1℃ |
| Power/Voltage | 1500W/AC220V 50Hz |
| Stainless steel sterilization tray | 400×200×30mm (3 pieces) |
| Machine overall size | 580×480×384mm |
| Gross weight/Net weight | 50Kg/45kg |
TM-XD35D Laboratory Sterilizer and Autoclave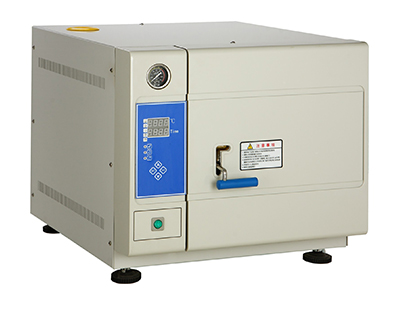 | | |
| --- | --- |
| Sterilizing chamber volume | 35L (Inner diameter Ø300×500 mm) |
| Rated working pressure | 0.22MPa |
| Rated working temperature | 134℃ |
| Adjustment of temperature | 105~134℃ |
| Adjustment of timing | 0~99min. |
| Temperature uniformity of sterilization chamber | ≤±1℃ |
| Power/Voltage | 2700W/AC220V 50HZ |
| Stainless steel sterilization tray | 400×200×30mm (4 pieces) |
| Machine overall size | 730×550×510mm |
| Gross weight/Net weight | 73/90Kg |
TM-XD50D Laboratory Sterilizer and Autoclave
| | |
| --- | --- |
| Sterilizing chamber volume | 50L (Inner diameter Ø340×550mm) |
| Rated working pressure | 0.22MPa |
| Rated working temperature | 134℃ |
| Adjustment of temperature | 103~134℃ |
| Adjustment of timing | 0~99min. |
| Temperature uniformity of sterilization chamber | ≤±1℃ |
| Power/Voltage | 2700W/AC220V 50HZ |
| Stainless steel sterilization tray | 500×250×30mm (4 pieces) |
| Machine overall size | 770×600×754mm |
| Gross weight/Net weight | 105/86Kg |